Lewis Hamilton has said the realisation of clinching his fourth championship is yet to sink in after revealing he received 300 congratulatory messages following his historic triumph.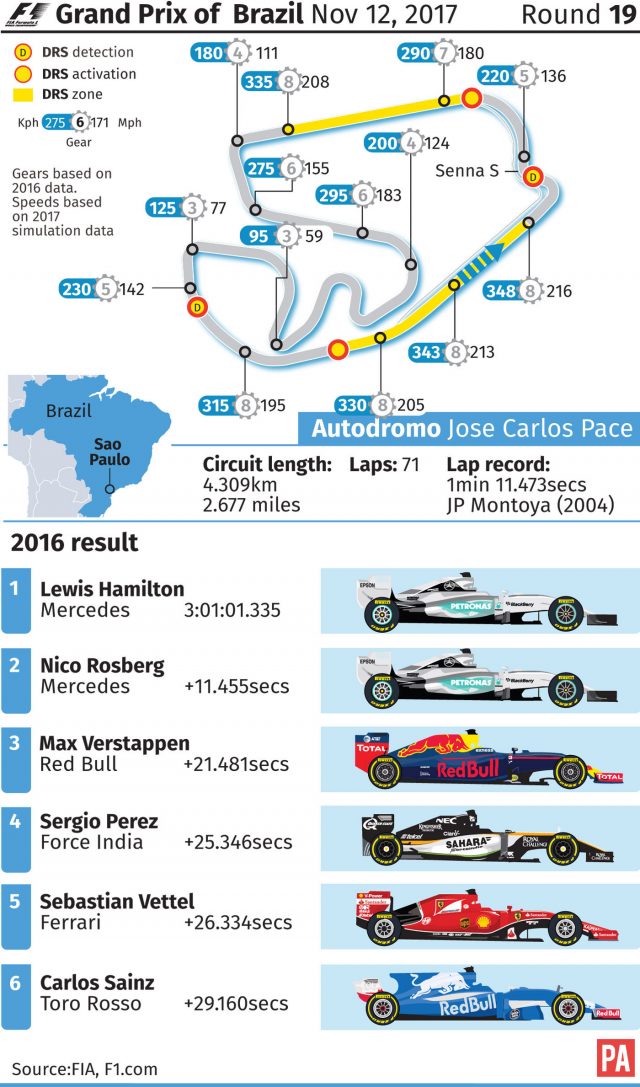 Hamilton surpassed Sir Jackie Stewart as the first British driver to win more than three Formula One world titles in Mexico last month before taking his victory parade on to Miami, the Caribbean and scaling Machu Picchu in Peru.
The Englishman touched down in Sao Paulo for the penultimate round of his championship-winning season nursing a cold and mired in controversy after it was alleged earlier this week that he had avoided a £3.3million VAT charge on his private jet.
A spokesman for the 32-year-old Mercedes driver said on Monday that the deal was "above board" and that "the matter is now in the hands of his lawyers."
And Hamilton appeared unperturbed by the Paradise Papers claims on Thursday – insisting he had nothing more to add to the matter – and instead choosing to focus on the title he sealed following a chaotic Mexican Grand Prix.
"Every now and then I would be at dinner with my friends and family, and I would pinch myself, and say 'remember we won the world championship last week?'," Hamilton said. "It hasn't sunk in because I have tried to stay in the zone and the same mental frame of mind.
"After the race in Mexico I had 300 messages – e-mails, texts, WhatsApp messages – and I didn't know I even knew that many people. It was probably the most I have ever had. I always reply to everyone, but I was panicking because there were too many.
"It feels good walking into the paddock as a world champion. It feels like the first time. I don't know why, but it feels so fresh and so new."
Asked to reveal which high-profile names were among his well-wishers, a coy Hamilton replied: "I would prefer not to say, but some really cool people, who I have never heard from or met, and from so many people that I truly admire, super superstars, musicians, and actors.
"It was mind-blowing. It would be cool to show you my phone, but I am not going to."
Hamilton arrived one day late to this race at Interlagos two years ago after he was told to rest on doctors' orders following a road crash in his 200mph Pagani Zonda supercar in Monte Carlo.
The Briton, who had sewed up the title two rounds earlier in the United States, said the collision – in which he hit three parked cars – was a result of too much partying and not enough sleep.
Hamilton finished second to bitter Nico Rosberg at the final three races of that year – a momentum the German carried over to the start of the ensuing season – but Hamilton has vowed not to make the same mistake.
"I don't like to live in regret, but I don't want to be in that position again," Hamilton added. "I have to keep the pressure on as I have done throughout the year.
"There are still two races to go so it feels abnormal to back off at this point. It is a better time than ever to apply even more pressure."